Micrófono De Voz Cardioide Con Condensador AKG P220 – Revisado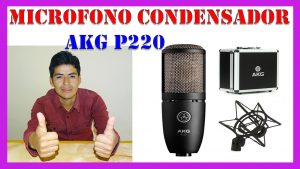 El micrófono AKG P220 es un micrófono de condensador flexible diseñado para los usos numerosos de la grabación. Este gran micrófono integral es ideal para voz, guitarra acústica y de instrumentos. alcance hasta 155dB SPL(Nivel de Presión Sonora) y permite grabar varias fuentes con la máxima claridad y la precisión tonal. La flexibilidad versátil del micrófono lo hace adecuado para aplicaciones de estudio, proporcionando un sonido cristalino con matices ricos que brillan a través de cualquier mezcla.
En el corazón de la P220 de AKG es un premium-cápsula de condensador de calidad, con un patrón de captación cardioide. Cuenta con un filtro cambiable que elimina el estruendo y ruido bajo, ideal para voz y grabaciones de guitarra. También incluye una atenuación conmutable pad, lo que le permite atender a diversos niveles de presión sonora para mayor versatilidad. La amplia respuesta de frecuencia va desde 20Hz – 20kHz (kiloHertz), capturar cada matiz de su audio de origen con máxima precisión para fidelidad de audio studio-grade.
Diseño & accesorios
El micrófono cuenta con un cuerpo robusto, toda de metal para la durabilidad óptima, lo que es altamente confiable. La gama de precio asequible y versátil diseño hacen ir a un micrófono para una gama de aplicaciones. Además, el micrófono viene con un montaje de choque tipo araña para la eliminación de ruido para integridad y calidad de audio o señal mejorada. También viene con un maletín de aluminio de alta resistencia para almacenar y transportar su micrófono con máxima protección.
Características
Micrófono de condensador de gran diafragma
Patrón polar cardioide
Ideal para voces, guitarras acústicas e instrumentos de viento
Alto SPL de 155dB
Atenuación conmutable pad
El amplio rango de frecuencia captura todos los matices de su fuente de grabación
Ideal para aplicaciones en escenarios y estudios
Completo con soporte de choque y estuche de transporte de aluminio
DATO IMPORTANTE:
👉 👉 🎤 ADQUIERA EL MICROFONO CONDENSADOR AKG P220 DESDE AQUI 
Encuentra los Mejores Microfonos de voz Cardioide con Condensador en la Marca: AKG, RODE, AUDIO TECHNICA, NEUMANN, SHURE y mas…desde AQUÍ O EN EL BANNER AQUI DEBAJO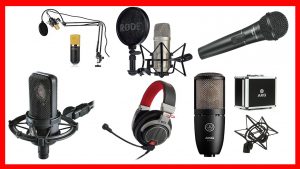 DALE PLAY AL VIDEO PARA VER EL REVIEW DEL MICROFONO AKG P220
Bien Espero te aporte valor este pequeño información recuerda dejarme tu comentario y si crees que vale la pena, compártelo con tus amigos en las redes sociales como: twitter, Facebook e instagram, recuerda que el conocimiento es para todos.
Finalmente, te invito que visites mi canal de YouTube donde encontrarás cientos de tutoriales relacionados a los negocios online, tecnología, redes e internet, edición de videos y mucho más…Estoy seguro que uno de mis videos te será de utilidad, clic aquí para acceder
👉👉 🎤A CONTINUACIÓN TE MUESTRO LOS PRODUCTO MAS VENDIDOS (BESTSELLER):
Bestseller No. 1
Pyle-Pro Professional Moving Coil Dynamic Cardioid Unidirectional Vocal Handheld Microphone Includes 15ft XLR Audio Cable to 1/4'' Audio Connection (PDMIC58)
UNIDIRECTIONAL - Cardioid pickup pattern captures source signal such as guitar amplifier or vocalist, while shunning off-axis sound minimizing background noise & feedback reproducing audio without interference from instruments or speakers on stage
DYNAMIC - For optimal clarity and punch, robust & resistant to moisture, achieving high gain before feedback, makes this microphone ideal for live vocal applications and for recording amplified instruments
ULTRA-WIDE FREQUENCY RESPONSE - for brilliant and transparent sound with integrated pop filter and windscreen to minimize breath and pop noises you can count on it to come through after countless gigs and studio applications
CABLE INCLUDED - Professional grade 15 ft XLR-to-1/4 cable supplied This Pyle PDMIC58 is perfect for your bedroom, professional studios and on-stage vocal performances all over the globe
HIGH QUALITY - Rugged, all-metal construction for maximum reliability featuring a zinc die-cast case and steel mesh windscreen with anti-dent ring A perfect all-purpose, versatile stage and recording microphone
Bestseller No. 2
innopow Metal Dual UHF Wireless Microphone System,inp Metal Cordless Mic Set, Long Distance 150-200Ft,16 Hours Continuous Use for Family Party,Church,Small Karaoke Night (WM-200-New) (WM200N)
Sleek metal housing with internal antenna for optimum aesthetics and durable long life
Battery Life: 14-17 Hours.Working Range in wide-open area: 180-240 Ft(60-80m), Extra Two XLR individual outputs and one 1/4"/6.35mm Mixed output. Better to have a power amplifier if you want to get a good effect
Unidirectional neodymium dynamic cartridge for optimum true sound, maximum feedback rejection and minimal handling noise
Fixed frequency, Vocal Sound quality is loud and clear(Need amplifier or mixer). ideal for church, small DJ KJ stage, birthday wedding or family party, conference, classrooms, small karaoke night etc. Note:For more efficient production, we set up 5 group frequencies channel. it don't have MUTE feature.
What you get: Contact us. Get 24-months warranty. Receiver,2 microphone transmitter, power adapter, 1/4'' audio cable, 6.35 to 3.5mm audio adapter,2 Antenna,
Bestseller No. 3
Karaoke Microphone,Fifine Dynamic Vocal Microphone for Speaker,Wired Handheld Mic with On and Off Switch and14.8ft Detachable Cable-K6
CARDIOID DYNAMIC MICROPHONE-Wired microphone features a cardioid pickup pattern for greater gain while simultaneously minimizing feedback. Ideal for live situations where noise cancellation is needed,that makes handheld microphone remarkable for presentation,wedding, conference, church,interview and solo performances.
FLAT,WIDE-RANGE FREQUENCY-The smooth frequency range is solid at 50 to 18 kHz,suited well for handling high sound pressure levels.It is tailored for spoken word,vocals,various instruments.Having no power requirement makes dynamic microphone the ideal choice for any live applications.
OPTIMAL SPEECH INTELLIGIBILITY-Such is vocal microphone that it delivers an low distortion for clean sound output,precise reproduction of speech and vocals with excellent intelligibility.Suitable for recreational activities,such as singing, karaoke, home party and performance, indoors or outdoors.
AN XLR TO 1/4" CABLE INCLUDED-Allowing the karaoke microphone to be directly used for speaker and amplifier with a 1/4" mic in jack. Protected by two-tire PVC, it's thick enough for brilliant, transparent sound transmission with no loss. 14.8ft-long enough to move unimpeded so you can concentrate on nothing but the performance.
RUGGED AND RELIABLE METAL CONSTRUCTION-A dynamic microphone for speaker that is robust,simpler to operate with Suitable size and shape for your hands,being a better option for public speaking.Built-in pop filter for protection against plosives.An external on/off switch on it for easy control of audio.
RebajasBestseller No. 4
PYLE Mic (PDWM2135)
DUAL CHANNEL: This black wireless microphone system by Pyle Pro has dual frequency channel and broad audio response range with low distortion so you can enjoy cordless singing to karaoke music and mobility for energetic on stage performance
STABLE SIGNAL & CLEAR SOUND: This professional portable wireless microphone set has a channel frequency range of 174~216MHz and high signal over noise ratio performance for capturing high quality audio. Ideal for professional engagement, conference
INDEPENDENT MIC VOLUME CONTROL: Each dynamic or lav mic features its own volume control so you can balance the vocals as desired for a karaoke experience that both kids and adults will enjoy. Perfect for PA, karaoke, Dj party
CONVENIENT POWER SWITCH: Both the receiver and the mic has a power ON / OFF switch and the receiver has LED status signal indicator light and dual independent antenna. Plug your unit into your mixer, amplifier, or speaker with a 1/4" mono cable
WHAT'S IN THE BOX: The package includes a receiver and 2 wireless handheld dynamic transmitter mic. The device can be used outdoor and indoor like a school classroom, church or at home for personal use
RebajasBestseller No. 5
ZINGYOU Condenser Microphone Bundle, BM-800 Mic Kit with Adjustable Mic Suspension Scissor Arm, Metal Shock Mount and Double-layer Pop Filter for Studio Recording & Broadcasting (Gold)
Professional Recording Studio Equipment: Equiped with Zingyou BM-800 microphone, Shock mount, Pop filter, Mic adjustable suspension scissor arm stand, Anti-wind foam Cap, Power cable, Sound card
Sensitive Capture: The Zingyou BM-800 features thin material diaphragm or "capsule" which vibrates and sends a signal to the output when engaged and is hit by sound waves, it provides an extremely accurate and highly detailed representation of what's being played
Great in both Vocal and Instruments: Wide frequency response makes it an ideal mic to capture vocals, acoustic guitars, acoustic pianos and even strings as the condenser is able to take an accurate snapshot and capture all the subtleties and nuances inherent in these instruments.
Low Noise: It features high signal-to-noise ratio (SNR) that means less distortion to be caused on the process of recording, Unique 3-layer protection system prevents unwanted pop noises-providing singers with a clear, plosive-free vocal performance
With detailed assemble video and Instruction document, 7 days no reason to refund, 30-day replacement service, 1 year warranty
RebajasBestseller No. 6
Bestseller No. 7
TONOR Dynamic Karaoke Microphone for Singing with 5.0m XLR Cable, Metal Handheld Mic Compatible with Karaoke Machine/Speaker/Amp/Mixer for Karaoke Singing, Speech, Wedding, Stage and Outdoor Activity
Cardioid Dynamic Microphone: TONOR's wired dynamic microphone features a cardioid pickup pattern for greater gain while simultaneously minimizing background feedback. Perfect for karaoke machine, stage performance, wedding, church, interview, etc.
Premium Construction: All metal construction ensures long life. This TONOR Dynamic Microphone is constructed out of premium hard metal for durability and strong resistance to impact.
Easy to Use: No battery required for operation. An external on/off switch on it for easy control of audio (Push up is ON, push down is OFF). When the microphone is not used, you can turn it OFF using the switch without unplugging the cable.
15ft XLR to 1/4 in Cable: Allowing the karaoke microphone to be directly used for the speaker, amplifier or mixer. Superior construction of the mic cable can isolate external electromagnetic interference and make the sound transmission more clearly.
What You Get: TONOR's wired dynamic microphone comes in a full kit with all the right essentials - 1 Microphone, 1 XLR Cable, 1 Foam Mic Cover and 1 Instruction Manual to get you started.
Bestseller No. 8
Rechargeable Wireless Microphone System, GEARDON Dual UHF Handheld Mic Set with 100 x 2 Channels Karaoke Microphones, Up to 250ft Professional Operation for Outdoor Party, Wedding, Church
RECHARGEABLE WIRELESS MICROPHONES: The dual wireless handheld microphones are rechargeable(Note: please use rechargeable batteries when charging), can be used up to 12 hours after being charged fully, AA battery also available.
CONVENIENT TO INSTALLATION: Easy to set up with automatic channel searching disturb function, 100 x 2 Dual-Channels selectable UHF frequencies for interference free operation.
WIDE OPERATING RANGE: The handheld mic set has an operating range of up to 250ft with amazing vocal sound quality, the microphones are made of metal, not plastics.
LCD SCREEN AND CLEARER SIGNAL: There is LCD screen on both microphones & receiver and this wireless mics are built-in PLL synthesized technology for an even clearer signal.
MULTI-SCENE APPLICATIONS: Perfect choice for karaoke party, DJ, wedding host, business meetings, classroom activities, church, outdoor or onstage performances.
RebajasBestseller No. 9
Wireless Microphone, UHF Wireless Dual Handheld Dynamic Mic System Set with Rechargeable Receiver, 260ft Range, 6.35mm(1/4'') Plug, for Karaoke, Voice Amplifier, PA System, Singing Machine, Church
LATEST WIRELESS KARAOKE MICROPHONE SYSTEM: Built-in high sensitivity professional Dynamic microphone, transmission distance upgrade to 260 feet (80M) Signal stabilityNo delayNo radiation Anti-howling Anti-jamming Constant frequency Distortion <0.2%15 UHF Adjustable channels. The mic outer case is alloy material which is harder, lighter and more wear-resistant. Support max to 15 set microphones in the same range not interference
EASY TO USE MICROPHONE: Plug and play, no need for extra settingPowerful Wireless Microphone have a 6.3 mm (1/4")plug and a 3.5 mm(1/8'') conversion plug for more sound reinforcement equipment, plug the receiver into the MIC port to use, Do not insert AUX jack. Dual microphones compatible with speaker, Singing machine, audio amplifier, PA system, Voice amplifier /PC/Laptops/cameras etc
BATTERY AND DISPLAY:The microphone does not come with any batteries, we recommend using 2 AA Amazon alkaline batteries. The chargeable receiver is built-in 600 mAh battery for 6 hours use time and fully charged in 3 hours.The display can show the battery power and signal strength in real time, don't worry about Suddenly not working
PROFESSIONAL DUAL CHANNEL DYNAMIC MICROPHONE: Built-in moving-coil microphone,widely applied to conference,speech, Web podcast,YouTube recording, Outdoor recording, Yoga instructor, church, get together, Family party, Opening Ceremony, dancing instructor, Promotion, game etc If you use multiple microphones at the same time, Please switch channels(Part 4 Advanced Operations to 2 note B,Page 8) otherwise there maybe noise or no sound.
ADVANCED CONNECTION AND AFTER SALES: If your microphone has no sound, make sure you have enough power for the microphone and receiver. Insert the MIC jack, Not an AUX jack. Please Re-pairing (On pages 7 and 8 of the user manual or last item in the product description). Bietrun offers a 1-year warranty service and can write to us when you have any questions. We will be the greatest brand in the United States.
Bestseller No. 10
Pro Microphone
Professional microphone app for singers
3 microphone types for vocal lessons;
Pro equalizer was added;
Great voice sound effects' collection;
Studio recording app for rehearsal;